(Dublin, OH) The City of Dublin's "Reality Check" campaign has earned the 2019 Excellence in Workforce Development award from the Ohio Economic Development Association (OEDA). This award is given to organizations that implement unique and innovative practices or programs focused on workforce development.
"Dublin Reality Check" is a multi-faceted national digital marketing campaign, targeted specifically at employees in the tech industry, that highlights the benefits of working in a lower cost-of-living area, like Dublin, versus pricier coastal cities, like San Francisco or New York City.
"Dublin and the Columbus region have built a reputation as a tech hub and a great city for young professionals. The Dublin Reality Check campaign leverages the assets of Dublin and the Columbus region as a place where tech professionals can have a thriving career and a better quality of life," said Dublin Director of Communications and Public Information Sue Burness. "The campaign metrics have shown great results in year one with more than 11 million impressions served to the target audience, 26,000+ clicks to the DublinRealityCheck.com website and more than 1300 clicks to the Dublin tech job listings on the site."
Burness emphasized Dublin Reality Check is a collaborative strategic effort between the City's Economic Development Team and Communications & Public Information along with agency partners Fechtor Advertising and Adept Marketing. The campaign includes fun videos, social media posts and a website that features salary comparison graphics, testimonials and tech job openings in Dublin. See more at dublinrealitycheck.com.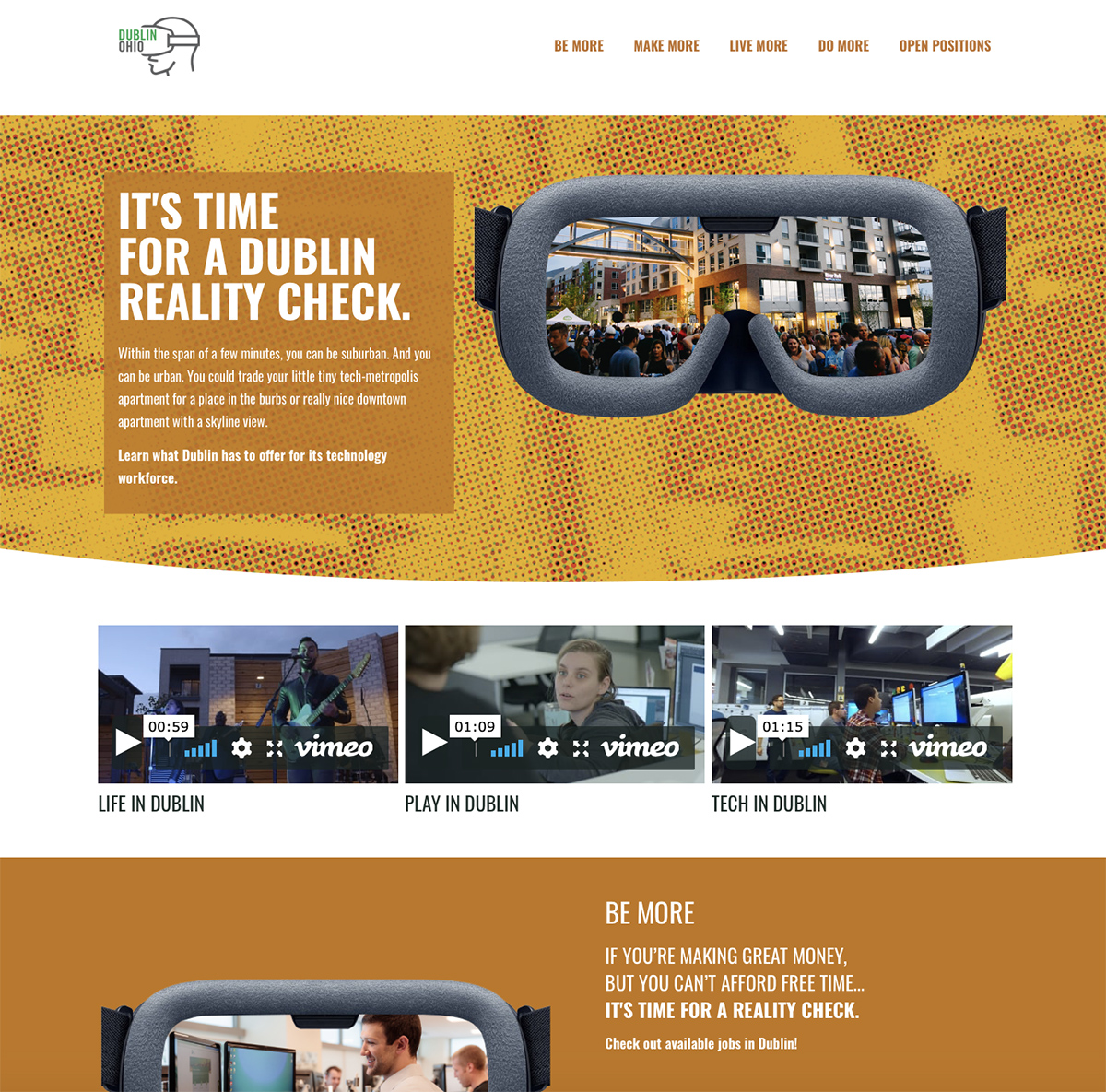 "Dublin's Economic Development team has spent the last year focused on tactics around IT workforce development including workforce and culture assessments, talent pipeline growth, leadership training and industry-specific networking to share best practices," said Director of Economic Development Colleen Gilger. "We are thrilled to be recognized for the work we are doing to grow and strengthen the IT talent pipeline in our community."
Jeremiah Garcia, Economic Development Administrator for the City of Dublin, accepted the award at the OEDA Annual Excellence Awards Luncheon Ceremony on October 9, 2019. This ceremony is a part of the OEDA Annual Summit, a three-day conference dedicated to discussing economic development practices, both new and old.
About the City of Dublin, Ohio, USA
Dublin is a city of more than 50,000+ residents located just northwest of Columbus, Ohio. It offers residents and corporate citizens responsive services, attractive housing, superior public education, direct regional highway access, abundant park space, thoughtful and strategic planning, innovative ideas and technology and a dynamic community life. Dublin is consistently ranked one of the safest cities in the nation and was named one of America's Top 20 Creative Class Cities. It is home to more than 20 corporate headquarters, an entrepreneurial center, 4,300+ businesses, world-class events and the urban, walkable Bridge Street District. For more information, visit DublinOhioUSA.gov or call 614.410.4400.
About OEDA
OEDA is an organization dedicated to promoting the advancement of economic development in Ohio. It has more than 500 members from over 88 counties in Ohio. Learn more about OEDA here: https://ohioeda.com.
Media Contact:
Sue Burness, Director of Communications & Public Information
614.410.4508 – Desk
614.226.5382 – Cell
sburness@dublin.oh.us
Claire Kudika, Communications & Public Information Intern
ckudika@dublin.oh.us
Newsroom: https://dublinohiousa.gov/newsroom/