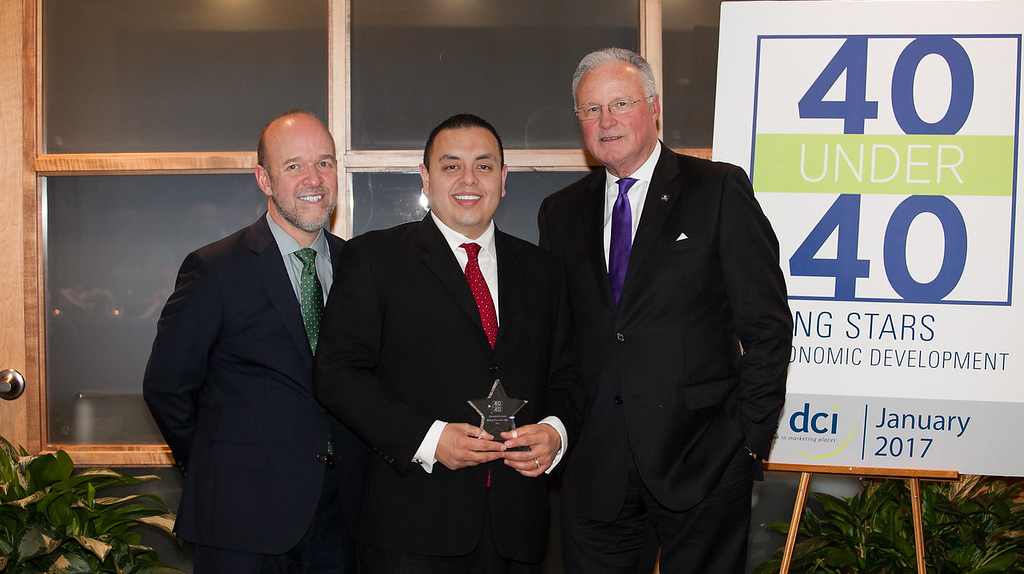 Jacksonville, Fla. – City of Dublin Economic Development Administrator Jeremiah Gracia has been selected as a winner in the economic development profession's 40 Under 40 awards, the only award of its kind recognizing young talent in the economic development profession.
An independent six-member selection committee evaluated and chose the winners based on their exceptional contributions to the economic development industry. The award's program was managed by Development Counsellors International (DCI), a New York-based firm that specializes in economic development marketing.
"Jeremiah is an extraordinary asset to the City of Dublin's economic development team," said Director of Economic Development Colleen Gilger. He recently helped the City launch a technology incentive program – 100-gig Dublink Transport in the City's legacy office buildings at Metro Place and the PACE audits for our aging buildings. He has been a board member of Ohio Economic Development Association and served as president two years ago. We value his drive and determination to always want to be better – personally, professionally and as a team."
"This award is a result of the great professional opportunities I've been provided by the City of Dublin," said Gracia. "Our commitment to executing our economic development strategy is always at the forefront and I'm grateful for being part of the team."
Gracia joined the City of Dublin's Economic Development team in 2011 to focus on business retention and expansion programs and initiatives. He works closely with internal and external development partners to coordinate and facilitate development projects in the City.
DCI's 40 Under 40 award was designed to discover the economic development profession's rising stars.
"The people chosen by the selection committee represent a bright future for the economic development world," said Andy Levine, president of DCI. "They are a new breed of results-driven place makers. We're very pleased to see Jeremiah Gracia among the winners."
"I was impressed by the energy and dedication of these developers," said Zach Patton, Executive Editor at GOVERNING Magazine and 40 Under 40 selection committee member. "Their passion for good economic development really stood out in their smart innovations, thoughtful programs, and cool ideas."
DCI officially announced the winners last night at an awards ceremony during the International Economic Development Council Leadership Summit in Jacksonville and will feature an in-depth profile of each on its website during 2017.
For more information on DCI's 40 Under 40 winners, visit www.aboutdci.com/40under40.
CONNECT WITH US Facebook Twitter LinkedIn Nextdoor
Media Contact: Sue Burness, Public Affairs Officer sburness@dublin.oh.us 614.226.5382
Twitter/@sueburness @dublinohio www.dublinohiousa.gov
About the City of Dublin, Ohio, USA
Dublin is a city of more than 44,000 residents located just northwest of Columbus, Ohio. It offers residents and corporate citizens responsive services, attractive housing, superior public education, direct regional highway access, abundant park space, thoughtful and strategic planning, innovative ideas and technology and a dynamic community life. Dublin is consistently ranked one of the safest cities in the nation and in 2015 was named one of America's Top 20 Creative Class Cities. It is home to more than 20 corporate headquarters, an entrepreneurial center, 3,000+ businesses, world-class events and the urban, walkable Bridge Street District. For more information, visit DublinOhioUSA.gov or call 614.410.4400.
About DCI
Considered the leader in marketing places, Development Counsellors International (DCI) specializes in economic development and tourism marketing. The agency has worked for more than 400 cities, regions, states and countries since it was established in New York City in 1960. www.aboutdci.com